Skip to content
We believe that conservation education programs should be equally accessible to all, regardless of culture, socio-economic status, or geographic location. Therefore, SPN is developing a series of online course modules covering key areas in conservation biology that will be available to students, schools, zoos and aquariums, and conservation organizations at anytime from anywhere
Conservation Online Course Modules
Designed for students, our online course modules provide a self-paced learning experience in key areas of conservation biology.
Based Firmly in Science, course modules will be made available for use by schools, educators, zoos and aquariums, and conservation organizations and cover topics such as:
Extinctions and endangered species
Ecosystems and ecosystem services
Poaching and the illegal wildlife trade
Interactive format that is student driven with built-in knowledge checks.
Compatible across multiple platforms, including desktops, laptops, and tablets.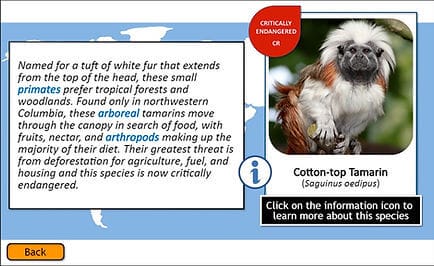 Screenshot of the Extinctions and Endangered Species module where students actively explore the IUCN Red List categories with examples.

Enquire about Online Courses


Volunteer for our Education Program

Zoos, Aquariums, and Conservation Organizations
Ask about partnering to have your existing content converted to online modules or
incorporating our online modules into your education program.